At present 7 of Kattegattleden's 10 municipalities have at least one stretch of gravel track. You can also see these stretches on the map under "Plan your bike ride".
Municipalities that have gravel tracks:
• Kungsbacka
• Varberg
• Ängelholm
• Båstad
• Laholm
• Halmstad
• Höganäs
There are a total of 22 gravel stretches in the 7 municipalities (catalogued in the summer of 2018).
Municipalities that DO NOT have gravel tracks:
• Gothenburg
• Falkenberg
• Helsingborg
Kungsbacka has 4 such stretches
1. Vallda nature reserve at Brandhultsviken. South of Särö and in north Vallda. This stretch is about 200 metres long and has mixed traffic. The path is a driveway to some houses, which means there are very few cars. The gravel track turns into a paved road at the north end of the stretch, after a wooden bridge over the river that crosses Kattegattleden. To the south this stretch continues along a narrow gravel trail (2).
2. Vallda nature reserve at Brandhultsviken. Ties in with the gravel stretch (1) above but is both a walking and cycle path (trail). This stretch is nearly 500 metres long and takes you past Brandshultsviken, through reeds, really close to nature. The route is more of a trail than a walking and cycle path, really close to nature – may easily become flooded and inaccessible after a lot of rain. It has been agreed that this stretch is to be raised so as to protect the path from flooding. When this is going to be carried out is unclear. It's hoped that it won't be paved as that would destroy too much of the feeling of proximity to nature.
3. Hanhals, Rolfs Bro (Rolfsbron) – bridge over Rolfsån. Gravel-paved older bridge, built in the late 1600s, illuminated at night. The gravel stretch is about 100 metres long. You hit upon the River Rolf and its bridge if you make your way into Kungsbacka from the south. It is located about 2-2.5 km south of central Kungsbacka. There is a road/bridge right next to it if you prefer to avoid the gravel.
Gravel on the Rolf bridge
Alternativ road right next to the bridge on road.
4. Löftabro/Södra Frillesås. When you cross the municipal boundary between Varberg and Kungsbacka, you go over a gravel-paved bridge – this stretch is about 30 metres long. There is an alternative bridge right alongside if you prefer to avoid the gravel. It has mixed traffic whereas the gravel track is for walking and cycling. The bridge takes you over the Löftaån. This area is more wooded.

Gravel on Löfta Bridge
Alternativ road Göteborgsvägen next to the.
Varberg has 3 routes that are gravel tracks
1. Stråvalla beach, along the seashore. A little over 500 metres long walking and cycle path. Goes by the beach and harbour, beautiful natural landscape. Has excellent spots for swimming and is still quite near to facilities owing to proximity to Frillesås.
2. A longer stretch, 2.5 km, that takes you along the seashore from Hålevik, past Ekestadbukten and then inland towards Karis. Walking and cycle path with extensive views and an open landscape. First over the sea and then over meadows. This stretch also runs beside the railway line for a while.
3. From Bua towards Limabacka, next to the big Södra Cell Värö paper mill. There is a stretch of gravel track about 750 metres long that takes you over fields, alongside farms/houses and past (almost through) a grove. Most parts of this stretch have good visibility.
.
Gravel road North of Södra Cell Värö
Halmstad has one stretch of the path that has a gravel surface – between Tönnersa and Gullbranna nature reserve
From the asphalt road down towards Lagaoset, where the path turns off into Tönnersa nature reserve, there is a forest track for a while, then a gravel road up to the bridge over Genevadsån (there are sections of asphalt just before and after the bridge).
After the bridge, there is also a gravel road until you reach Laxvik at Strandängsvägen, which is a stretch of about 5.5 km. See the pictures below.
Beginning of Tönnersa Nature reserve, forest road
Gravel road in Tönnersa Nature reserve
The bridge over the river Genevadsån was read in year 2018.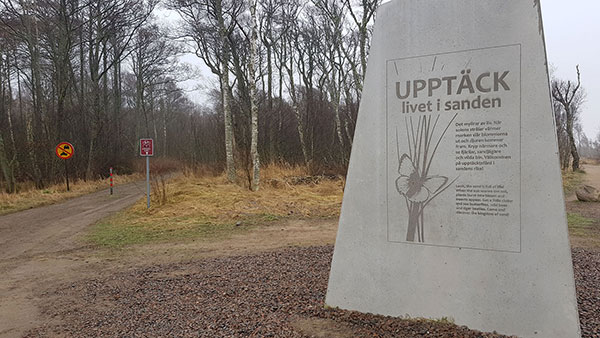 Gravel road in Gullbranna Nature reserve, nice place to take a breake.
Laholm has 1 gravel stretches
1. Hökafältet, Högagården. Nature reserve. Forest and close to nature. Both a walking and cycle path and trail-like roads to travel on. There are certainly some tree roots and other obstacles to larger vehicles but bike trailers should be able to get through without any problems. The trails in the forest are probably best suited to mountain bikes. The stretch covers 1.5 km in a forest landscape, on gravel. The stretch continues on a paved walking and cycle path northwards and southwards.
Grusvägen genom Hökafältet
Parallell alternativ väg i Hökafältet, bilväg
Båstad har 3 sträckor med grus
1. På Välmossavägen och Norra Hovallsvägen genom Segelstorpsstrands området, från Ängelbäcksstrand till Ranarpsstrand. Sträckan är på ca 1,3 km. Går genom ett samhälle och bostadsområde som heter Segelstorpsstrand. Goda möjligheter till bad, rastplatser och kustnära miljö.
2. Vid Rivieravägen bakom Hotell Riviera norrifrån och söderut utmed Strandpromenaden, vid området Malen. Grussträckan på Strandpromenaden är till större delen en gågata, men kommunen har ändå lagt cykelleden längs med den här sträckan, som sammanlagt är 1,6 km lång. Otroligt kustnära med vackra rastplatser och goda möjligheter till bad. Alternativa asfaltsvägar finns i området.
Grusväg mellan Strandpromenaden och hotell Riviera
Grusväg bakom hotell Riviera
Strandpromenaden
Strandpromenaden
3. Grussträcka på Fasanvägen, 300 meter bort (norrgående) från sträcka 2, längs med Hemmeslövstrand. Mellan bron över Stensån och en skogsdunge så finns en 220 meter lång grusväg, bilväg men mycket begränsad trafik. Även här är det väldigt nära till havet. Alternativa asfaltsvägar finns i området ovanför.
Bro över Stensån
Ängelholm har 6 sträckor med grus
1. 2. 3. 4. Det ligger fyra stycken grusbelagda sträckor med korta intervaller. Norr om Skälderviken så är de vid Skepparkroken, Björkhagen och Strandgården. Sträckorna är 800, 600, 500 och 70 meter, vilket blir sammanlagt nästan 2 km. Väldigt kustnära på alla sträckor. Alla är blandtrafik förutom en, som är cykelväg.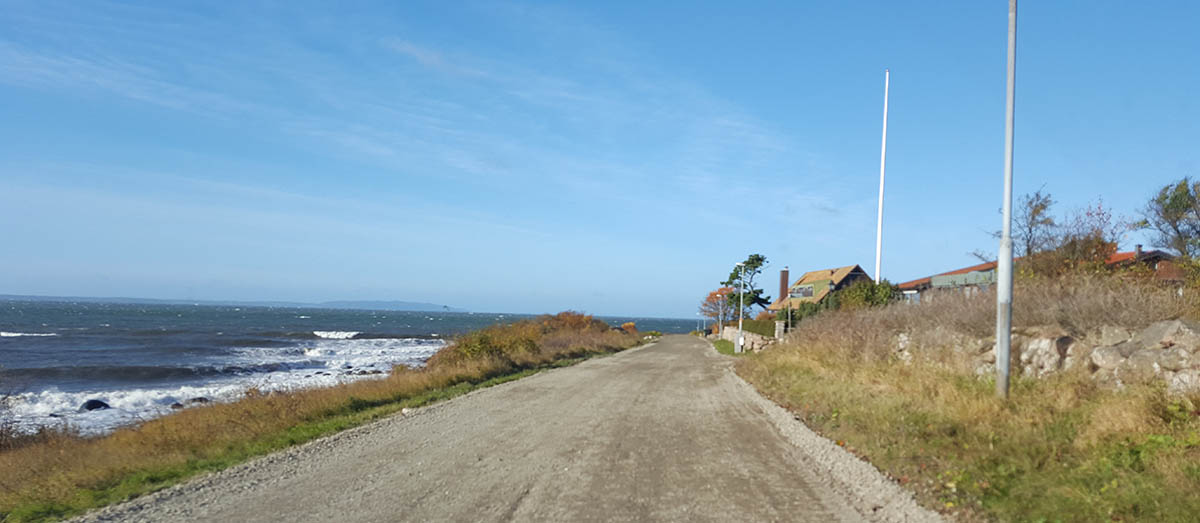 5. Vejbystrand, mellan Skogsvägen och Sandlyckevägen är en grussträcka. Utmed sträckan finns toalett, vatten och pumpstation och en rastplats vid Skogsvägen. Sträckan i sig är ca 200 meter. Går längs med kusten och är en cykelväg.
6. Vejbystrand, på vägen Allmänningen, mellan Stora Hultsvägen och Lillahultsvägen är en grussträcka på ca 870 meter. Sträckan går genom Stora Hults strands naturreservat. Här finns toalett och fina badmöjligheter. Alternativa asfaltsvägar finns i området.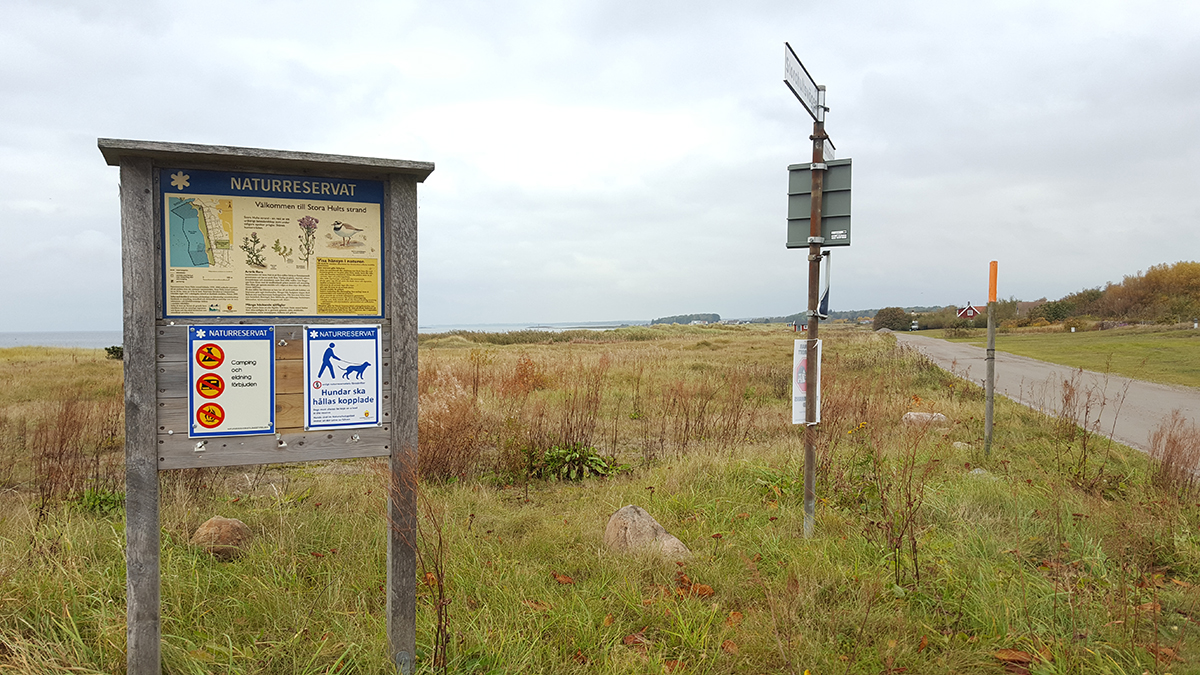 Höganäs har 4 sträckor med grus
1. Mellan Nyhamnsläge och Lerhamn, norr om Höganäs, så går det en grusad cykelväg bredvid åkern, sträckan är lite över 900 meter lång. Det finns en alternativt stor väg, asfalterad, en bit längre bort, som går parallellt med cykelvägen, som heter Krapperupsvägen och går i blandtrafiken.
Per Cronbergs väg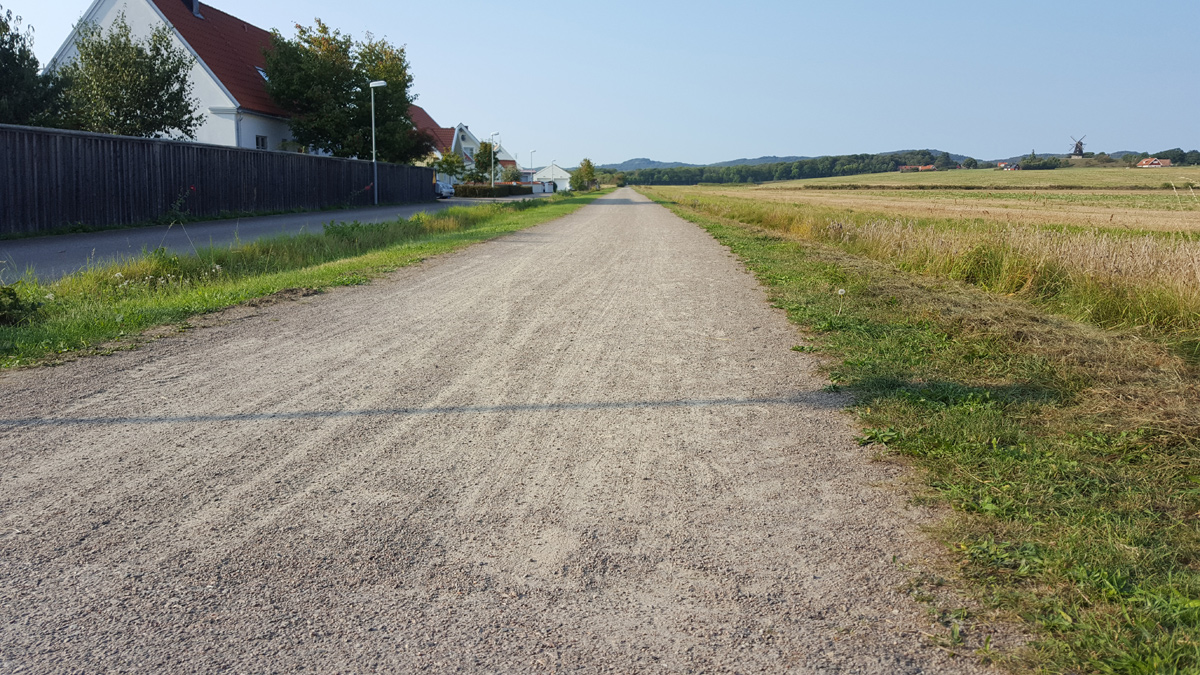 Ovan bilder sträckan söderifrån.
Sträckan norrifrån.
2. Strax norr om Höganäs hamn, ca 1 km lång väg längs med kusten med fin utsikt!
3. 450 meter lång sträcka på Ebbas väg, borta vid Bölsåkra-Tranekärrs naturreservat. Norra delen av Höganäs kommun, ute på vidderna. Vägen är blandtrafik men med fina asfaltsvägar runt om så är det nog minimal trafik längs med grusvägen. Alternativ väg för asfalt är att fortsätta följa Norra Kustvägen och ta av vid vägen Hamnabacken, vid Svanshall på leden igen. Söder ifrån ta vänster på Norra Kustvägen och gå på leden vid Skäretvägen igen.
Ebbas väg söderifrån.
Ebbas väg norrifrån.
4. Sträckan i Svanshall mellan Bläsingevägen och Tvättehallsvägen går en liten sträcka på ca 150 meter på grus genom skogen. Välj att fortstätta på Norra Kustvägen, som går parallellt om du vill cykla på asfalt.
Söderifrån
Solängsvägen / Bläsingevägen norrifrån.